On the morning of November 16th, the first "East Asia Six Industries Forum" was grandly held in Northwest A&F University. Zhao Zhong, Deputy Secretary of NWAFU party committee and Guo Sherong, Yangling Demonstration Zone Party committee secretary delivered speeches respectively. Former deputy minister of Japan's Ministry of Agriculture, Forestry and Fisheries, Jiechuan Fangsi, also chairman of Agriculture and Forestry Central Treasury Research Institute, and Professor Zhang laiwu, former deputy minister of Ministry of Science and Technology, chairman of the China Soft Science Research Association, Dean of Six Industries Research Institute of Fudan University and Northwest A&F University, delivered speeches.
Professor Zhang laiwu first proposed and founded the Six Industries Theory in the world. In his speech, Professor Zhang said Six Industries is a systematic theoretical system, which scientifically described the content and characteristics of the fourth industry Internet plus, the fifth industry Culture and Creativity plus and the sixth industry, re-clarified the concept of the third industry, and took a leap from three industries to six industries. Among them, the sixth industry is the highest form of industrial structure. The core of the sixth industry is to promote the integration of the first, second and third industries in rural areas through the cultural creativity of the fifth industry and the platform of the fourth industry, and to promote the integration of the agricultural industry chain and the upgrading of the value chain. He pointed out that the key to the six industries is integration. The nature of integration is innovation, and the essence is to solve the ecological environment and urban-rural development challenges faced by China's economic restructuring and upgrading so that peasants can share the added benefits of industrial integration and development in a new era, solving the problems of agriculture, rural areas and farmers fundamentally.
The Forum was approved by the Ministry of Education, jointly organized by NWAFU, the Administrative Committee of Yangling Demonstration Zone and New Rural Development Institute of colleges and universities collaborative innovation strategic alliance. It is the first international forum for six industries held in the world. With the theme of "Six Industrial Innovation, Public Governance and Sustainable Development in Social Transformation", the three-day forum consists of four topics including Innovation and Practice of Six Industries, Multi-Perspective Public Governance Action and Practice, New Problems of the Western Region Development in Social Change and the Sustainable Development Path under Supply-Side Reform. It aims to jointly discuss the relevant theories, policies and practices of the six industries, actively respond to the challenges of ecological environment as well as urban and rural development faced by promoting innovation and entrepreneurship, and promoting the transformation and upgrading of economy, and also to facilitate the reference and development of cross-regional and interdisciplinary experiences, serving the national agriculture supply-side structural reform, rural revitalization strategy and regional coordinated development strategy.
It is reported that the second East Asia Six Industries Forum will be held in May 2018 in Japan.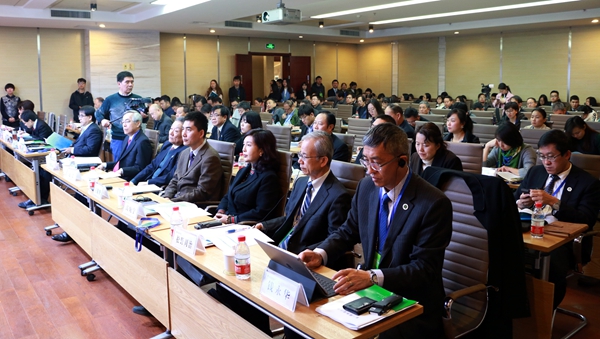 More than 100 Chinese and foreign delegates attended the forum
Translated by: Ruan Shuling
Proofread by: Zhang Xiaorong