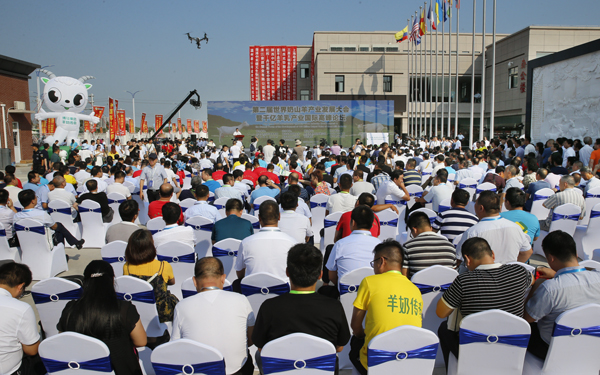 From August 19th to 21st , the 2nd World Dairy Goat Industry Development Conference was held in Fuping, Shaanxi Province, the hometown of Chinese dairy goats. Lu Zhiyuan, deputy governor of Shaanxi Province, attended and announced the opening. Li Xingwang, secretary of the Party Committee of NWAFU, attended and adresses the ceremony. Li Defa-the president of China Dairy Association and academician of Chinese Academy of Engineering, Juan Cabot-president of International Goat Association, and over 600 people including Party and government officials, along with guests, experts and scholars from domestic and foreign countries, and representatives of dairy companies in Weinan City and Fuping County attended the conference.

Lu Zhiyuan, Li Xingwang, Li Defa, Juan Cabot Unveilling the Opening Ceremony
Themed on "Communication, Innovation, Cooperation and Win-Win", the conference held the International Dairy Goat Healthy Aquaculture and Dairy Processing Technology Seminar and the Shaanxi 100 Billion Goat Milk Industry Development Summit Forum. More than 100 experts, scholars and business leaders from home and abroad exchange ideas of the strategies for Shaanxi's 100 billion goat milk industry development, the future of world's dairy goat industry, the goat dairy products and human health, the exploration in poverty-alleviation model based on dairy sheep industry, the research on prevention and control technology of dairy sheep major disease, the research progress of quality control technology for goat milk products, and the marketing strategy and model of Jingdong goat milk products.
Fuping dairy goats industry have a long history which is the largest dairy goat base country of China. The number of dairy goats, milk production and processing volume ranks first among the Chinese countries. In 1987, it was named "The Hometown of Dairy Goats" by the State Council. In 2014, it was awarded the title of "China's Goat Milk Capital" by China National Light Industry Association and China Dairy Industry Association. In 2016, Fuping goat milk powder was listed in the natinoal geographical indication protected prodution. In 2018, it was awarded the title of "World Dairy Goat Industry Development Demonstration Zone" by the International Goat Association and the Organizing Committee of the General Assembly.
Translated by Zhao Rui
Proofread by Yan Xianhui