Home
» News
The First International Symposium on Mammary Development and Regulation of Lactation in Rumminants was held
Author: Ruan Peng  Date:2018-08-27 Read:
Recently, the first International Symposium on Mammary Development and Regulation of Lactation in Rumminants was held on the Zijingang Campus of Zhejiang University. The conference was co-sponsored by the School College of Animal Sciences of NWAFU and the College of Animal Sicences of Zhejiang University, and co-organized by the National Agricultural (Dairy) System Nutrition and Feed Research Laboratory and the Dairy Goat Professional Committee of China Dairy Association.
The conference invited more than 80 peer experts and graduate students from 21 units at home and abroad. Professor Liu Jianxin from Zhejiang University presided over the opening ceremony. Professor Luo Jun, the vice president of NWAFU, delivered a speech at the meeting as the co-chairman of the conference. The delegates will cherish this learning opportunity, exchangeing ideas and seeking for mutual progress. On behalf the next organizer of the conference, Professor Shi Huaiping from our univeristy sent an invitation to the participants and announced the topics of next session. The 2nd International Symposium on Mammary Gland Biology is to be held at Northwest A&F University in 2019. At the meeting, the "Best Presentation Award" was specially established. Finnally, the doctoral students He Qiuya of NWAFU, Cai Jie of Zhejiang University, and Zhao Fangfang of Yangzhou University, gained the honory award.
The conference focused on the nutrition supply and lactation metabolism of ruminants, the genetic mechanism and gene function of milk componentsm, and the environment and lactation physiology. The representatives exchanged ideas of milk nutrient absorption and utilization, mammary gland lipid synthesis and metabolism, environment and lactation, and dairy product safety.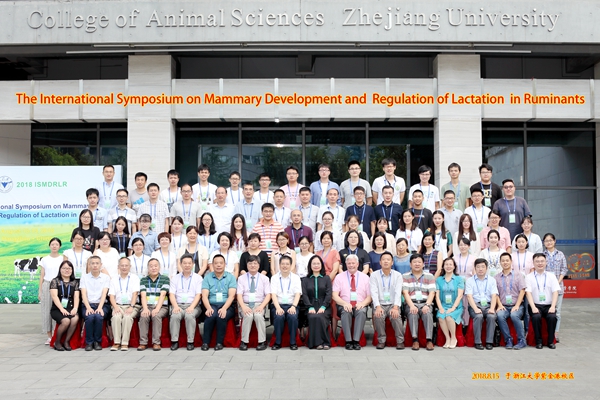 Translated by : Zhao Rui
Proofread by: Yan Xianhui