Home
» News
NWAFUers Achieved Great Success in the "Blue Bridge Cup" National Finals
Author: Shen Zhao  Date:2019-05-30 Read:
  From May 25th to 26th, the National Finals and Awarding Ceremony of the 10th "Blue Bridge Cup"National Software and Information Technology Professionals Competition was held in Beijing.After fierce competition, 11 undergraduates of Grade 2016,including Fu Yangchen and Zhang Yuxuan, under the guidance of Professor Zhang Hongming and Associate Professor Wang Meili from College of Information Engineering, won 2 second prizes, 4 third prizes and 5 excellent prizes in the individual competitions.
  The "Blue Bridge Cup" competition, sponsored by the Talent Exchange Center of the Ministry of Industry and Information Technology and supported by the National Information Consulting and Employment Guidance Center of the National Higher Education Institute of the Ministry of Education, has become the leading competition platform for IT majors in Colleges and universities in China. More than 60000 participants from more than 1200 colleges and universities including Peking University, Tsinghua University, Shanghai Jiaotong University, Beijing Institute of Technology and NWAFU competed on the same stage. Compared with the ninth competition, the number of contestants increased by more than 10000, the scope is wider and the competition is more intense.
  Over the years, College of Information Engineering has attached great importance to the organization and participation of student subject competitions, and has taken the high-quality discipline competitions such as "Blue Bridge Cup" as the starting point, actively promoted the teaching innovation and reform of relevant disciplines in colleges, strengthened the construction of study style, and continuously improved the students' independent innovation consciousness and employment competitiveness, and achieved good results.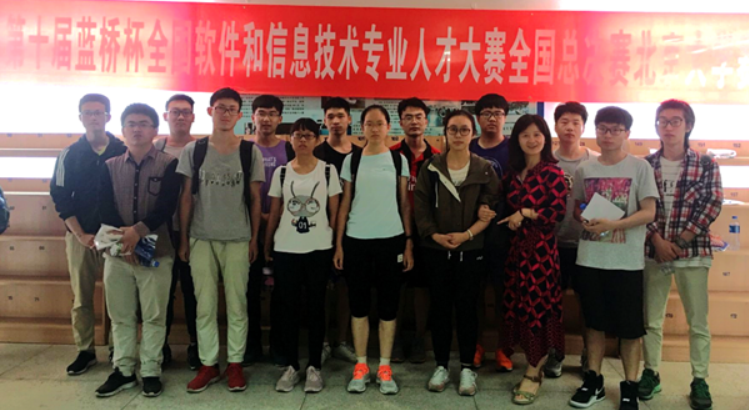 Translated by: Ruan Shuling
  Proofread by: Zhang Xiaorong