Home
» News
NWAFU Students Achieved Satisfactory Results in the 2019 National College Robot Competition
Author: Wang Shaokun Wang Jiaxing  Date:2019-06-03 Read:
  From May 22nd to 26th, the National RoboMaster Central China Regional Competition was held in the Siyuan Activity Center of Xi'an Jiaotong University.With the support of the Academic Affairs Office, the NWAFU Saker Team, composed of teachers and students from College of Water Resources and Architectural Engineering, participated in the competition on behalf of the University, won the second prize in the regional competition and was promoted to the national competition.
  NWAFU team constantly innovates and explores technology, gives full play to its own advantages, independently designs five different categories, and achieves all the functions required by the competition. These include automatic identification, mobile sentry robots, engineering robots with the functions such as consignment, lifting, and grabbing.In the course of the competition, the self-designed infantry robot and aerial robot (unmanned aerial vehicle) have won the MVP for many times and received unanimous praise from the authorities.
  The National College RoboMaster Robotics Competition is a robotic event jointly sponsored by the Central Committee of the Communist Youth League, the National Federation of Students, and the Shenzhen Municipal People's Government, initiated and organized by DJI.As a global robot competition of shooting and confrontation, at the beginning of its birth, it has attracted hundreds of colleges and universities, nearly thousands of high-tech enterprises and tens of thousands of science and technology enthusiasts around the world with its subversion of traditional robot competition, shocking audio-visual impact and fierce and tough competitive style.The competition attracted 170 universities including colleges and universities from the United States, Canada, Japan, Hong Kong, Macao and Taiwan, more than 2000 robot enthusiasts and more than 800 robots. Its international influence continues to expand.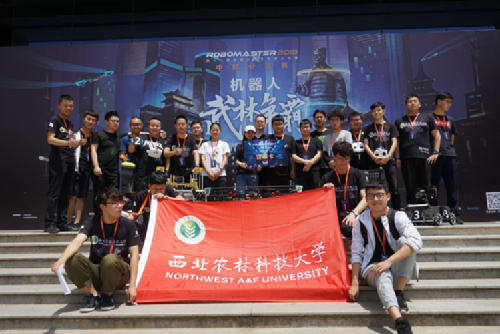 Group Photo
  Translated by: Ruan Shuling
  Proofread by: Zhang Xiaorong