On May 23rd, the"We Are The Hero"special roadshow for rural revitalization at Yangling, co-sponsored by CCTV Financial and Economic Channel, Yangling Agricultural High-tech Industrial Demonstration Zone Management Committee and Northwest A&F University, was held in the university's North Xiushan Activity Center.
  It is believed that since the launch of the CCTV's"We Are The Hero" Yangling Station Roadshow in April, it has been aimed at the whole society, and has explored outstanding entrepreneurial projects from the "source" of entrepreneurship such as universities, maker spaces and incubators in the region.The members of the judging panel selected 15 quality projects to participate in the roadshow after evaluating, scoring and sorting according to the economic and social values, entrepreneurial stories, image quality and expressiveness,project team building and other aspects.
  On the roadshow site, 15 entrepreneurial teams came prepared with the projects. Seven of them were students' entrepreneurship teams from NWAFU. Competitors were required to introduce and display their entrepreneurial projects in five minutes, while interacting with the on-site judges.The atmosphere at the competition was very intense and excellent projects were overwhelming.Through a fierce competition, eventually four excellent projects including "Yougeng Intelligent Planting Industry Chain Service System"of Yang Ling Duobang Network Technology Co., Ltd. , "Red Leads Green Development-succulents, leading farmers to get rid of poverty and get rich" of Shaanxi Yaosen Agriculture and Forestry Technology Co., Ltd., "Nanoemulsion Medicine Industrialization"of Yang Ling Huayi Nanomedicine Technology Co., Ltd., and "Deep Integration of Campus and Enterprises to Create a New Model of Integrated Services" of Yang Ling Siming Biotechnology Co., Ltd. will be on CCTV's "We Are The Hero" stage. Participants will meet face-to-face with top investors and have the opportunity to obtain tens of millions of investment.
  The success of the roadshow "We Are The Hero" held in Yangling will further stimulate Yang Ling's "double creation"boom, provide support for Yang Ling and even the entrepreneurs in the western region in terms of capital, technology and talents, so that young people with dreams, responsibilities and abilities can have a broader platform to perform a more exciting entrepreneurial life.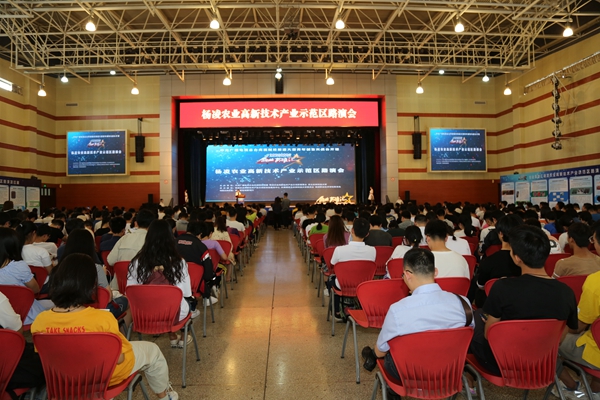 CCTV's "We Are The Hero"Special Roadshow for Rural Revitalization Held in NWAFU

Interactive questions and answers between participants and guests during the live roadshow

Group photo of guests and participants
  Translated by: Ruan Shuling
  Proofread by: Zhang Xiaorong