Home
» News
Sino-Pak Research Center for Agro-Biological Resources in NWAFU Officially Established
Author:   Date:2019-06-12 Read:
On June 11th, the Sino-Pak Research Center for Agro-Biological Resources in NWAFUis officially established.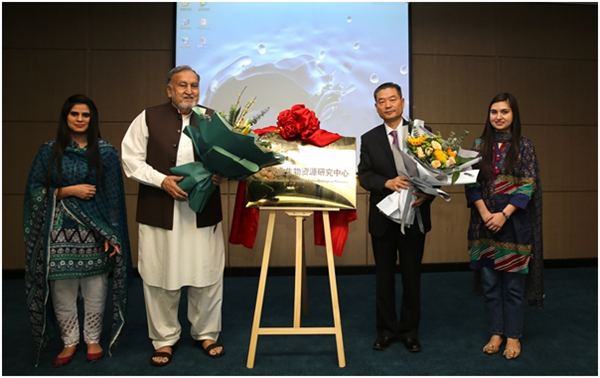 the Unveiling Ceremony
The Research Center for Sino-Pak Agro-Biological Resources is to be run both at NWAFU and the University of Lahore, Pakistan. This organization will serve to strengthen the substantive cooperation and exchanges between the two sides in the field of agricultural biological resources, mainly focusing on the pilot researches on biochemistry and molecular genetics, crop production and processing, to push forward the construction of world-class discipline of both sides. The specific work includes the establishment of a pilot demonstration park for medicinal plants, wheat and other industrial crops in China and Pakistan, the joint application for scientific research projects, and the reception of 2-3 outstanding Pakistan doctoral students to study and work at NWAFU. These practices will greatly promote the mutual cooperation between the two universities.
China and Pakistan have long-term fraternal friendships, as well as similar topography, climatic conditions and crop types. In recent years, there have been deeper exchanges between our university and Pakistani universities. In July 2017 and November 2018, NWAFU and the Pakistan Science Foundation jointly hosted two "One Belt, One Road" International Conference on Bio-health Agriculture, which has provided a professional platform for the comprehensive education cooperation on bio-health agricultural science and technology, the development of industry and enterprise and humanities exchanges between China and the countries along Silk Road.


Group Photo of All Attendees of the Ceremony